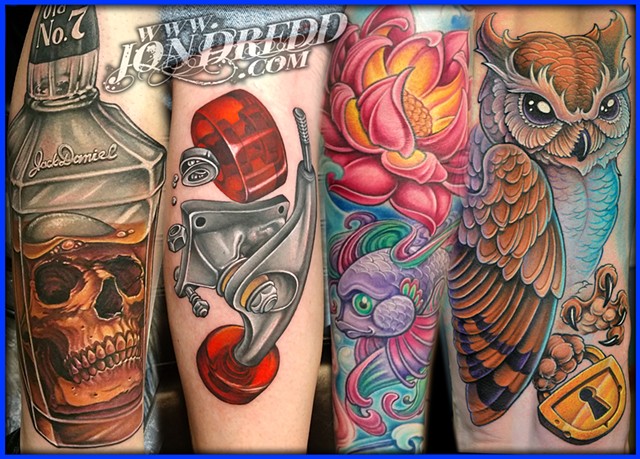 The Artwork of Jonathan "Dredd" Kellogg
Tattoo Portfolio - click here!


WANT TO GET TATTOOED?
The BEST way to get in touch with me about a new tattoo project, is to use my Tattoo Request Form - click here!
If you have other questions, you can email me, jon@crucialtattoo.com
OR, You can call the shop and one of our staff can help you! 410-860-1999
I usually have a heavy workload, and am sometimes booked solid for many weeks at a time in advance, and this leaves me with limited time to answer all of the incoming emails. I try to address all of my emails on my days off each week, so please be patient if I do not respond right away. Most responses are within a day or two... or three, but at times it can take up to two weeks to reply if my work schedule is busy. Thanks for understanding!
You can always call the shop and speak with one of our staff for immediate information regarding my earliest availability for a tattoo spot on the calendar.
Crucial Tattoo Studio
28754 J Ocean Gtwy.
Salisbury, Maryland 21801
410-860-1999
To see what I am currently working on, be sure to follow me on....
Instagram @jondredd
Facebook /JonDreddTattoo
I am an internationally acclaimed, award winning Tattoo Artist working out of Salisbury Maryland, near Ocean City Maryland. I work at a custom based tattoo shop called Crucial Tattoo Studio, located in Spring Hill Plaza on business route 50 on the west side of Salisbury Maryland. We are about 28 miles west of Ocean City Maryland, and about a two hour drive from Washington DC, Baltimore, and Philadelphia.
I appreciate you taking the time to look through my Tattoo Portfolio and I realize there are many great tattooers available these days for you to choose from for your next tattoo. I am grateful for all of you who select me to make your tattoo ideas become a reality, and truly appreciate the large number of people who are willing to wait for a quality tattoo, as well as travel from many states away to come and get tattooed by me. I could not do what I do, and expand my artistic horizons without each of my clients who chose to be a part of this ride with me. Thank You!


I began Tattooing in 1997, and have had a lot of fun learning, and expanding my artistic boundaries over the last decade or so. My tattoo portfolio consists of a very diverse array of styles that I have attempted over the years, which has left me a very well rounded tattooer who can handle almost any style of tattoo with a great outcome. I enjoy doing black and gray tattoos, but I am most known for my full color tattoos, and my use of heavy color saturation with smooth blends of color. I am not sure that "my style" can be described easily, but I am told often that people "know my work when they see it".
Although I do go through artistic phases from time to time, the styles of tattoos I am interested in most, are "unrealistic realism", "new school", "bio mechanical" and other forms of "bio" work, "fantasy", "celestial" and "sacred geometry" work.
I tattoo by appointment only, and usually book tattoo appointments many weeks in advance. Most of the projects I do are on a large scale, highly detailed, or complex designs which require many return visits to complete, so I will schedule a series of appointments for these projects to ensure we can complete the tattoo within the shortest time frame possible. I am truly blessed to have so many great people coming to me with their tattoo ideas now, and with that comes the opportunity to ensure that every day I am working on tattoos that challenge me at this point in my career, and help my progression as an artist. Unfortunately this also means I will be more selective with the tattoos I choose to do, and may be turning down tattoos that I feel do not fit for me right now. If I choose to not do your tattoo please do not take it personally, I will gladly refer you to another great artist if you like. I appreciate your interest in my work and if I choose to tattoo you I will continue to provide a positive experience and best tattoo work possible!
I am currently focusing my tattoo art towards image based tattoos only, which means I will very rarely, if ever, incorporate any text in the tattoos I do. I also have moved away from most cover ups, and I no longer "FIX" poorly done tattoos. Sorry, but I want to do the best tattoos I can do, and I feel that most of these cases are better off looking in to tattoo removal options, which have become better, and more cost effective in recent years. This will open many doors for people with unwanted tattoos, that a "non removal aided cover up" cannot approach.
Your time and money is definitely best spent with me on a new, custom tattoo, that we can explore every option to get down to the best tattoo possible!


All of the art work on this site is custom, unless otherwise noted. Out of respect for my clients, and myself, PLEASE DO NOT COPY OR REPRODUCE ANY OF THE IMAGES found here! Thank You!